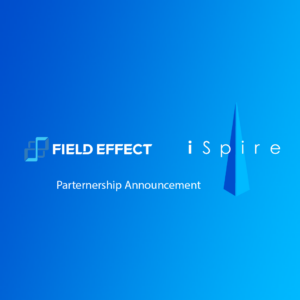 The iSpire team is excited to officially announce its partnership agreement with Field Effect (www.fieldeffect.com). iSpire's current cyber security offering will now be further enhanced by Field Effect products and solutions to bring even better, stronger security to our current customers and for the Canadian Small and Medium Business (SMB) market.
"As a Managed Security Service Provider (MSSP) we are always looking how to best manage and protect our customer IT infrastructures. This partnership allows us to provide leading edge active protection and response to attempted attacks by todays threat actors"
"The iSpire team has consistently protected it customers from Cyber Attacks through thoughtful consistent and innovative application of technology, processes, and policies. This addition of Field Effect solutions allows us to continue to be the first choice when it comes to starting, growing, and protecting business"
Chris Boudreau Chief Strategy Officer of iSpire.
Let us help you find peace of mind in this increasing world of Cyber Threats. For more information, contact us at:
Field Effect
Liz Goodman
lgoodman@fieldeffect.com
1-613-809-0467
iSpire
Elijah Clark
elijah.clark@ispire.ca
1-506-694-1050 x1067
iSpire.ca
For more information, click here – Field Effect and iSpire partner to shield small and midsized businesses from cyber attacks (newswire.ca)