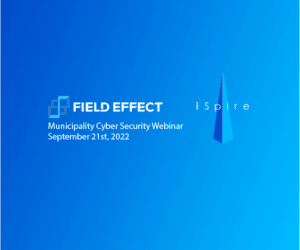 Municipalities everywhere are under cyber attack.
Staying ahead of the threats facing your municipality isn't a one-and-done task, though — it's an ongoing process.
Saint John NB, Clarence-Rockland ONT, St Mary's ON, Whistler BC, to name a few,…all these municipalities within the last 2 years have unfortunately been successful targets of Cyber Security Attacks. While not all attack outcomes are the same, each one had a profound impact on each of those communities.

Key services affected due to these attacks, range from emergency services to city parking, emails, phones, website, and infrastructure services, such as utilities and SCADA systems. When an attack succeeds and the damage is done, most incidents result a complete rebuild infrastructure. For some municipalities, this has sadly become their reality; they have been victims of cyber-attacks. Recovery costs can go from the 10's of thousands to millions of dollars.

To protect your municipality your team needs knowledge, information, training and tools. The combination of these 4 things is needed to stop cyber attacks. Understanding how to best protect your communities while being a #1 target for malicious cyber criminals is a challenge. Your best defense starts with education.

Education on Cyber Security risks, and what options and strategies are available to better protect your IT systems and infrastructure is a great start. That's why iSpire, and its partner, Field Effect, with consultation with the Union of Municipalities of New Brunswick, have prepared a webinar specifically for Municipalities.
Register here! When you sign up you also get a Municipality Specific Cyber Security E-book.